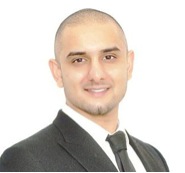 Dr Adam Patel
BDS, MSc, PG Cert Rest Dent BARD, MFDS (RCS Ed), MFDS (RCPSG)
Dr Patel has been fully trained in all aspects of Restorative Dentistry and Implantology and takes referrals for this and takes Legal referrals for reports for Accidents, RTAs, PI (Personal Injury) and Clinical Negligence.
Dr. Adam Patel qualified as a Dental Surgeon in 2008 from the University of Liverpool before embarking on a multitude of post-graduate courses in Restorative Dentistry, Prosthodontics and Oral Surgery. Since then he has set up practice in Leicester to establish his career and provide care to the people of his hometown.
Dr. Patel is one of a select few clinicians nationwide to hold a Masters' degree in Implantology, awarded by the University of Manchester in 2015, and as a result he is one of the youngest Dental Implant Surgeons in the UK.
He has completed Diploma's from various other institutes including the esteemed Royal College of Surgeons Edinburgh and The Royal College of Physicians and Surgeons Glasgow. He has spent copious amounts of time sourcing knowledge both nationally and internationally with the aim of achieving gold-standard treatment outcomes.
Dr. Patel is a visiting referral clinician in several practices nationwide whilst also providing mentorship for Implant Dentists. He regularly contributes clinical articles to journals and magazines, authors a health column within the Leicester Mercury newspaper and sits on the editorial board for a dental publication.
In addition, Dr. Patel holds multiple awards, the highlight being recognised as the Midlands Best Young Dentist in 2015 and subsequently being a finalist for the UK's Best Young Dentist in 2015 and 2016.
Over the past few years, Dr. Patel has been involved in various research projects, including a study on Oropharyngeal cancer in Hong Kong as well as a study on peri-implantitis (disease associated with dental implants). He recently spent time in East Africa providing essential oral health education to less fortunate third world communities.